Islamia School, London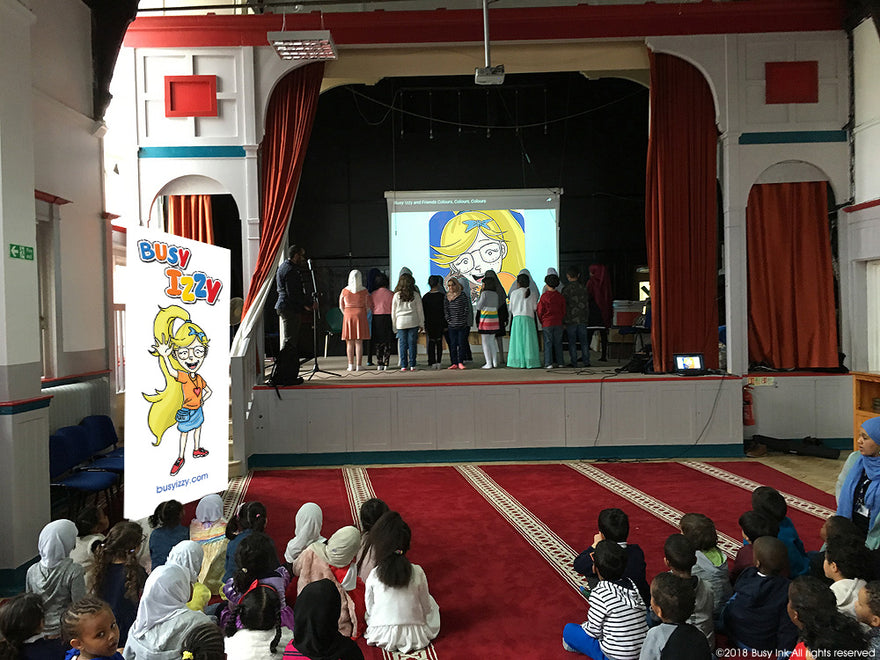 During their recent trip to Great Britain, Busy Izzy author, Roxanne Kiely, and creative director, Stephen Kiely, were invited to introduce Busy Izzy to the students at Islamia Primary School in Queen's Park, London.
Busy Izzy academic consultant and marketing co-ordinator, Kiswar Ali, who has taught at the school, arranged the invitation via her friend, Teacher Fatima, at the school and we're very pleased she did as the morning spent with the children and teachers at the Islamia Primary School was an entertaining and educational experience for all concerned.
The children enjoyed singing and dancing along to Busy Izzy's videos
They were also very interested to find out what happened when Izzy met her little puppy, Newly Truly at the S.P.C.A.
Then the students surprised us by singing a series of wonderful songs, conducted by their tutor, Teacher Abdesselam.
Roxanne and Stephen enjoyed a lovely morning tea with the school staff, and visited with Teacher Fatima and school principal, Head Teacher Babar Mirza
"We were so pleased to be invited to meet the lovely children at Islamia Primary School. They are a credit to their teachers and it was fun to watch them dancing along with Busy Izzy Says, and our other videos and stories. The school choir was in fine voice and what a pleasant surprise to have the children entertain us. We look forward to when we can visit with the teachers and students at Islamia Primary School again, hopefully soon." - Roxanne Kiely
Leave a comment
Comments will be approved before showing up.