Teachers Love Busy Izzy and Friends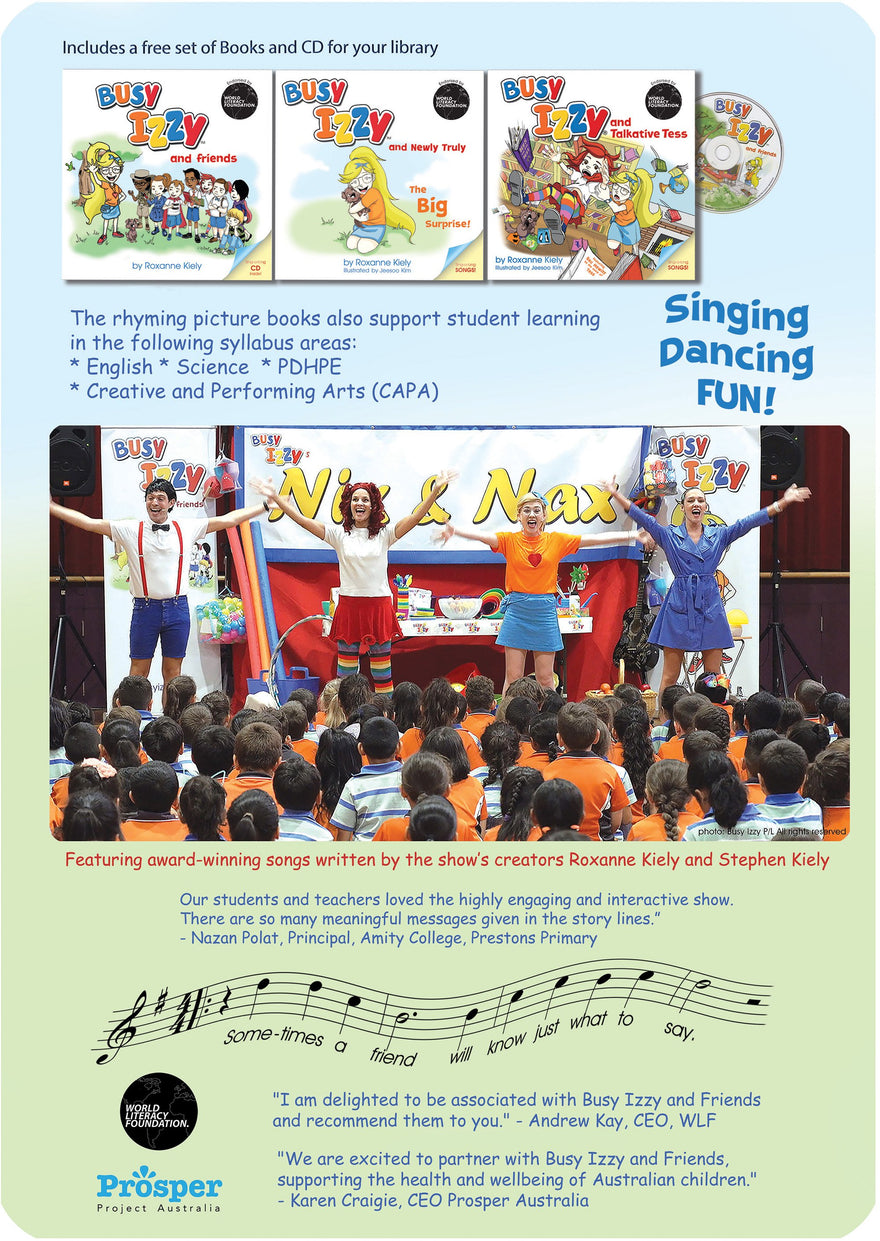 What do teachers think of Busy Izzy?
We're glad you asked, because we have a video, sent to us by Nazile Bright, Head Teacher, Junior school, Amity College, Prestons, Sydney, Australia
"The Busy Izzy and Friends books are full of phonological fun and clever wordplay.

We have been studying the Busy Izzy books within our literature unit for the past two years.
The Busy Izzy and Friends books have been so rich in rhythm and rhyme. 
The children love exploring the world of Izzy through interactive opportunities such as the read long CDs, songs, the website and the videos. 
Not only did the books do well in complementing our English learning outcomes, but also integrated beautifully with our key learning areas such as the creative arts, PDHPE content, interpersonal relationship skills and communication. 
We had so much fun reading the books and can't wait for the next 'Busy Izzy' book to come out."
The healthy activities, the recipes and the sing-a-long songs all serve to increase the children's awareness of vocabulary, safety and social interaction. We were also impressed that Busy Izzy has a garden at the back of her store, Nix & Nax.  She is interested in composting too. Such a Busy Izzy thing to do!
Nazile Bright
Head Teacher, Junior school
Amity College
Prestons, Sydney
Australia
Busy Izzy and Friends are much more than wonderfully entertaining children's picture books filled with exciting adventures.  These books for children have ethical and moral stories too. There are songs, interactive videos, fun songs and videos about being a good friend, healthy food, vegetables and fruit songs about fruit salad.  Friendship songs, fun songs, songs about being sensible too, and one of Izzy's friends is a secret-agent, her name is Skye and we have a song for her too. Oh, and an all new stage show for kids...
Modern Mo Li, is musical who loves to play the blues and Izzy's friends, Mathematic Max, Sensible Steven, Even Evan, Worried Warren, Talkative Tess and Bobby, who can be a little bit bossy, are wonderful and generous kids who love to spend time with their friends...and of course there is Izzy's, adopted little stray from the SPCA, Newly Truly "Who's the lucky rescue pup at Nix & Nax, who's everybody's favourite little friend."  These children's Picture Books, song and videos have something and everything for everyone.
#kidsbooks #booksforchildren #busyizzyandfriendsbooksforchildren #songs #songsforkids #Awardwinningsongs #busyizzyandfriendsonyoutube #busyizzyandfriendsonyoutubeforkids #youtubeforkidsbusyizzy #rhymingpicturebooksforkids #childrensbooks #kidsbooks #funkidsbooks #busyizzyandfriends #roxannekiely #stephenkiely #writingbooksforchildren #writingkidsbooks #reading #readingtochildren #readingisgreat #learningtoread #kidspicturebooks 
Leave a comment
Comments will be approved before showing up.