The Vegetable Song - My Little Veggie Patch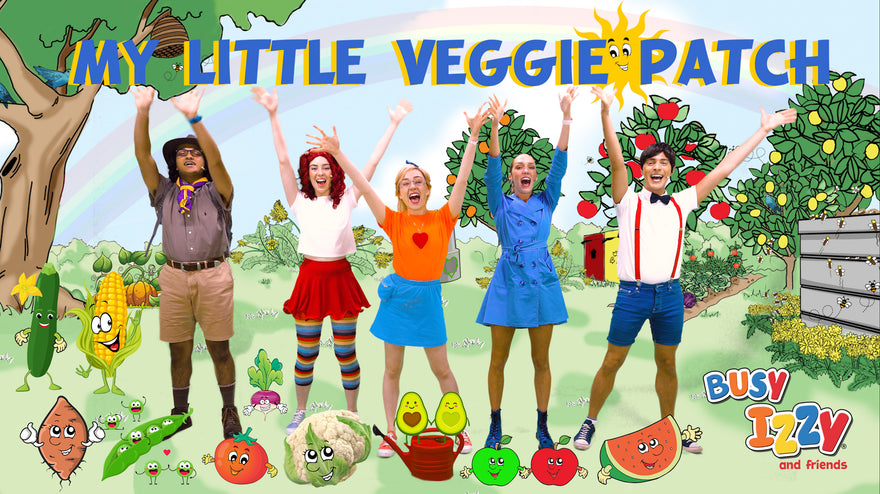 The Vegetable Song - My Little Veggie Patch
See the video by clicking here:
Busy Izzy and Friends on YouTube:
Do you eat your veggies? Busy Izzy and her friends do, they love to eat healthy fruits and vegetables because they know it keeps them strong and healthy too.
Busy Izzy's veggie garden is at the back of Nix & Nax. There is a compost bin full of scraps from when Izzy makes and bakes healthy snacks.
The compost bin has a little red wiggler worm called 'Wormee', a compost-vermi, and his friends too, who just love turning the scraps into vermi-compost.
Here is an excerpt from Roxanne's poem about 'Wormee' on 
Composting at home with Busy Izzy
"Just a taste of rotting waste, we'll all be moving in. They're a positive advantage in Busy Izzy's compost bin."
Izzy has a beehive with honey bees. These hard working littlies pollinate the fruits and vegetables. Pollination occurs when insects such as bees visit flowers, collecting nectar and pollen. Pollen is rubbed onto the insect and is then rubbed off onto the next flower the insect visits.
Izzy loves to garden, looking after her vegetables with a lot of love and care and watering too. Newly Truly loves to help Izzy in the garden. In book three, "Busy Izzy and Talkative Tess", you will see Newly Truly along side his best friend, Izzy, helping with the planning, planting and digging too. All of their friends love to help. It's fun to be outdoors.
There are plenty of fruit trees and vegetables in Izzy's garden. Apple trees, lemon trees, orange trees, tomatoes, beans, turnips and leafy greens, pumpkin, cabbage, avocado, onion, sweet potato, watermelon, peas and broccolini. Carrots, corn and cauliflower and zucchini, are good for you and good for me because they are nutritious and very snaxalicious.
Here are the lyrics to The Vegetable Song - My Little Veggie Patch.
Now you can sing and dance along to this upbeat vegetable song.
My little veggie patch
 CHORUS
The food in my little veggie patch
Is positively naturally healthy.
The sunlight and water make it grow, grow, grow! 
The soil is organic so i know, know, know!
The food in my little veggie patch
Is positively naturally healthy.
Let's plant some tomatoes and plant some beans.
Plant some turnips and lots of leafy greens
Grow some pumpkin and cabbage too
Have an avocado. It's good for you!
Apples and oranges are nice and sweet.
Onions are savoury but good to eat.
Food is good for every boy and girl.
Good food comes from all around the world.
REPEAT CHORUS
Sweet potato, watermelon, peas and broccolini
Carrots, corn and cauliflower and zucchini.
Are good for you and good for me
Because they are nutritious....and
Very, very, very, very,
Very, very, very, very,
Very, very, very snaxalicious!
The food in my little veggie patch is
Positively, absolutely, vegetably, infinitely,
Naturally healthy
Words and music written by Roxanne Kiely and Stephen Kiely
©2021 - All Rights Reserved
All three books and songs are great gift ideas for Christmas and birthdays.
Educational too.  Create and Play is the theme. #healthyrecipesforkids #booksforkids #childrensbooks #kidssongs
Rhythm and Rhyme a feature. Book four in the series is out in 2022.
Busy Izzy and Friends are much more than wonderfully entertaining children's picture books filled with exciting adventures.  These books for children have ethical and moral stories too. There are songs, interactive videos, fun songs and videos about being a good friend, healthy food, vegetables and fruit songs about fruit salad.  Friendship songs, fun songs, songs about being sensible too, and one of Izzy's friends is a secret-agent, her name is Skye and we have a song for her too. Oh, and an all new stage show for kids...
Modern Mo Li, is musical who loves to play the blues and Izzy's friends, Mathematic Max, Sensible Steven, Even Evan, Worried Warren, Talkative Tess and Bobby, who can be a little bit bossy, are wonderful and generous kids who love to spend time with their friends...and of course there is Izzy's, adopted little stray from the SPCA, Newly Truly "Who's the lucky rescue pup at Nix & Nax, who's everybody's favourite little friend."  These children's Picture Books, songs and videos have something and everything for everyone.
#kidsbooks #booksforchildren #busyizzyandfriendsbooksforchildren #songs #songsforkids #Awardwinningsongs #busyizzyandfriendsonyoutube #busyizzyandfriendsonyoutubeforkids #youtubeforkidsbusyizzy #rhymingpicturebooksforkids #childrensbooks #kidsbooks #funkidsbooks #busyizzyandfriends #roxannekiely #stephenkiely #writingbooksforchildren #writingkidsbooks #reading #readingtochildren #readingisgreat #learningtoread #kidspicturebooks #bechewitt #gardeningaustralia #goodorganicgardening
#healthyrecipesforkids #christmasgiftideas #birthdaygiftideas