Making and Baking Healthy Snacks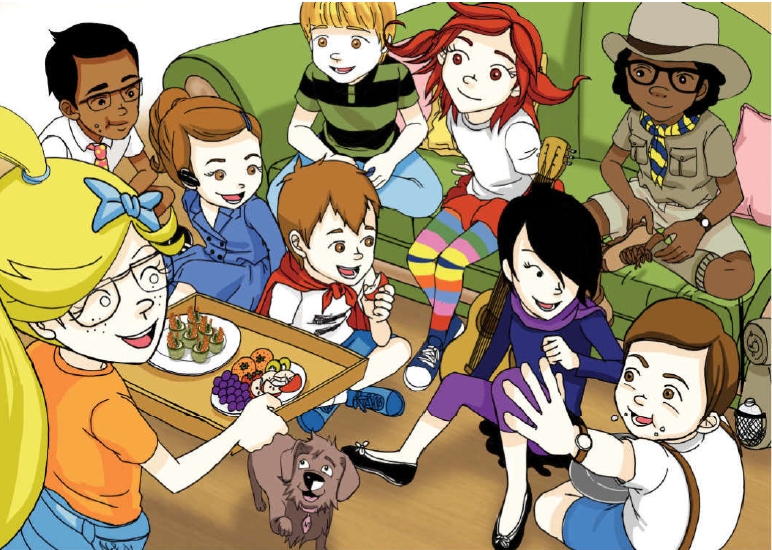 I have always enjoyed baking and especially making healthy snacks. Just like Busy Izzy does.  She enjoys making healthy snacks for her friends, when they visit her at Nix & Nax. "Help yourself to my snaxalicious snacks", says Izzy to her friends.
Do you love to cook?  I do and Busy Izzy does too.
When my sister Elaine and I were really young, around 6 and 7 years of age, we would make huts at the back of our house on the farm.  Sometimes, our dad would help us out by putting up old sacks to make walls for our hut.  When the walls were up, Elaine and I would get busy, making mud pies, mud quiches, mud cakes... basically mud everything. It was lots of fun playing with mud.  
We always enjoyed watching our mum cooking and making healthy snacks in the kitchen. 
We could tell that our mum was a wonderful cook and our dad was as well. The food was delicious and we often asked for seconds.
We quickly learned how to be pretty good makers and bakers of healthy food too. Just like Busy Izzy, our mum always knew exactly what to do.   
Here is a link to lots of recipes on busyizzy.com 
The pic is from Book three in the series: Busy Izzy and Talkative Tess.
https://busyizzy.com/pages/snaxalicious-snacks-at-nix-nax
By Roxanne Kiely
Busy Izzy and Friends are much more than wonderfully entertaining children's picture books filled with exciting adventures.  These books for children have ethical and moral stories too. There are songs, interactive videos, fun songs and videos about being a good friend, healthy food, vegetables and fruit songs about fruit salad.  Friendship songs, fun songs, songs about being sensible too, and one of Izzy's friends is a secret-agent, her name is Skye and we have a song for her too. Oh, and an all new stage show for kids...
Modern Mo Li, is musical who loves to play the blues and Izzy's friends, Mathematic Max, Sensible Steven, Even Evan, Worried Warren, Talkative Tess and Bobby, who can be a little bit bossy, are wonderful and generous kids who love to spend time with their friends...and of course there is Izzy's, adopted little stray from the SPCA, Newly Truly "Who's the lucky rescue pup at Nix & Nax, who's everybody's favourite little friend."  These children's Picture Books, song and videos have something and everything for everyone.
#kidsbooks #booksforchildren #busyizzyandfriendsbooksforchildren #songs #songsforkids #Awardwinningsongs #busyizzyandfriendsonyoutube #busyizzyandfriendsonyoutubeforkids #youtubeforkidsbusyizzy #rhymingpicturebooksforkids #childrensbooks #kidsbooks #funkidsbooks #busyizzyandfriends #roxannekiely #stephenkiely #writingbooksforchildren #writingkidsbooks #reading #readingtochildren #readingisgreat #learningtoread #kidspicturebooks