Busy Izzy's Compost Friend, 'Wormee'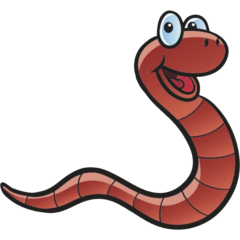 Here's Busy Izzy's backyard friend, Wormee, to tell us all about making compost from food scraps.
"Hi friends! I'm Wormee. A 'compost vermi'.
I lead my little friends through all the scraps.
We live inside the compost bin that Izzy has out back, 
of her little store in Green Grass Grove, we call "Nix & Nax".

We're clever little red wigglers,
two to five inches in length.
Reddish-brown is our colour,
and vermi-composting is our strength.
Now, here's some information about our regeneration:
If somehow our tails accidentally disappear.
We'll stay alive and survive! We know they'll reappear.
The brilliance of our resilience is our special kind of knack, 
of growing parts of our little bodies back.
I'm Wormee, and I'm on a journey.
Just a taste of rotting waste, we'll all be moving in.
We're a positive advantage in Busy Izzy's compost bin.
I LOVE compost and my friends and I feed on it and turn it from your food scraps into really useful fertiliser that's called 'Vermi-compost' because it is the product of the breakdown process helped by worms and usually red wigglers, like MEEEEE, and good friends of mine too. We all help to create the wonderful 'plant food', that you can spread around your plants and herbs in the garden.
Now, where is the best place to start? First, decide whether to use an open compost pile or a bin."
As Wormee says, he and his friends, help to turn food scraps, twigs and grass into nutritious fertiliser.
It's fun to make it all happen - Roxanne Kiely