Welcome To My YouTube Channel, says Busy Izzy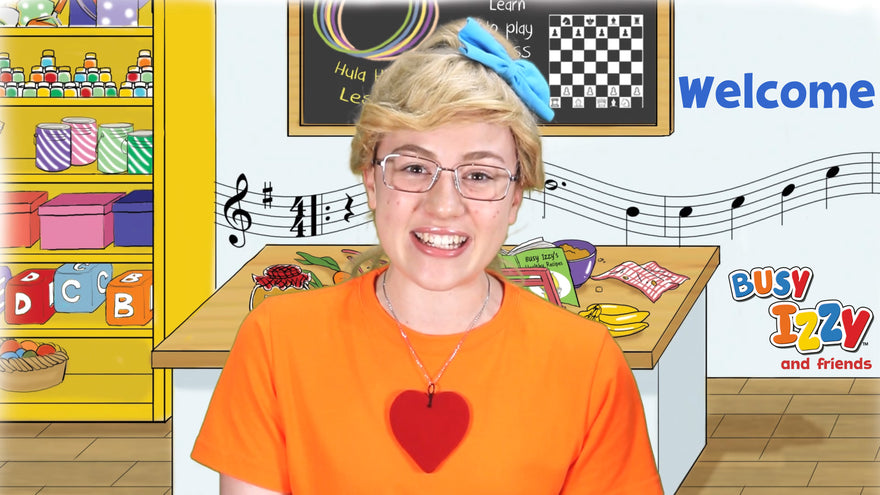 Welcome to the world of Busy Izzy and Friends, where you'll find fun and exciting videos, songs to sing, healthy recipes to learn and try. As well, you'll find real-time narration of the books from the series available at busyizzy.com and from online retailers. Who is Busy Izzy? Busy Izzy is a 12 year old girl who lives in Green Grass Grove with her puppy, Newly Truly, and all of her friends live nearby.
Busy Izzy...
Is ALWAYS HAPPY to help her friends.
Is FRIENDLY, helpful and very TRENDY.
Has an organic veggie and herb garden and a song about it too.
Has a compost bin where her friend "WORMEE" and his friends live.
Keeps HONEY-BEES and looks after them.
Enjoys making healthy SNAXALICIOUS snacks.
Plays chess on her computer, sometimes with other chess players online.
Owns a store called "Nix & Nax", where her friends love to visit.
Shares her tips on STAYING SAFE.
ADOPTED a little stray PUPPY from her local animal shelter.
Has 'free' pre-loved BOOKS at the front of her store.
Loves to write SONGS with her friend Mo Li. Listen to them here.
Makes GOOD CHOICES, she always knew exactly what to do.
Loves to host BIRTHDAY PARTIES. She has a special birthday song too.
Busy Izzy can...
FIX a flat tire on a bicycle.
BUILD a swing.
FIX a bird's broken wing.
Busy Izzy hopes that YOU love to learn new things, because there are so many things to LEARN and KNOW.
"BUSY IZZY AND FRIENDS", the multi-media series about Busy Izzy and her friends... * SENSIBLE STEVEN * TALKATIVE TESS * MATHEMATIC MAX * MODERN MO LI * BOSSY BOBBY * SECRET-AGENT SKYE * EVEN EVAN * WORRIED WARREN and of course, her adopted puppy, NEWLY TRULY Find out more at https://busyizzy.com​
They ALL live near each other in Green Grass Grove, where Busy Izzy has a store, selling lots of FUN and CREATIVE things, including home-made HONEY. Izzy loves to make SNAXALICIOUS SNACKS for her friends when they visit her at Nix & Nax.
What are Busy Izzy's songs about? The songs are all very positive, encouraging, uplifting and designed to engage young listeners as they journey into the worlds of...
'The ABC - My 26 BFFs' *
'FRIENDS - Sometimes A Friend'
'EXERCISE - Busy Izzy Says'
'FRIENDSHIP - Talkative Tess'
'ANTI-BULLYING - Bossy Bobby'
'PETS - Newly Truly'
'HEALTHY RECIPES - Busy Izzy's Healthy Recipe Book'
'WONDER - Who, What, Where, When, How & Why'
'GARDENING - My Little Veggie Patch'
'IZZY - We Love Busy Izzy'
'WELCOME - Welcome To Nix & Nax'
'COLORS (COLOURS) - Colours, Colours, Colours'
You'll even find videos showing you how to make some of the recipes contained in each of the illustrated books from the series. What are Izzy's books about?
Book 1, "BUSY IZZY and FRIENDS" is a 32-page picture book introducing Busy Izzy and her friends. Included are safety tips and the importance of music and singing. Inside the book is an audio CD which contains five energetic, sing-a-long songs. Author and co-songwriter, Roxanne Kiely, is on the CD as well, telling the story, with co-creator and co-songwriter, Stephen Kiely, complete with fun sound effects.
Book 2, "BUSY IZZY and NEWLY TRULY - The BIG SURPRISE!", is about the adventures of Busy Izzy and her newly-adopted rescue puppy. Busy Izzy loves all animals but has never had a pet of her own. She visits the SPCA and meets a cheeky little stray, who is looking for a home. It's a heart-warming story which will engage the hearts of children everywhere as the puppy, meets and becomes friends with all of Busy Izzy's friends in Green Grass Grove. We are sure that educators, parents and children alike will enjoy the fun, laughter, songs and surprises in store for all who read "Busy Izzy and Newly Truly - The Big Surprise!"
Book 3, "BUSY IZZY and TALKATIVE TESS"
"Do you have a friend who talks a lot? Natters and chatters and doesn't stop?
Busy Izzy has a friend like that. She's Talkative Tess and she loves to chat.
Tess can talk with a mouthful of toast. In all conversations she talks the most. Tess can talk slowly, but mostly talks fast.
She likes to talk first, and always talks last."
As with all stories, songs and live stage show from the project, it addresses a topic which is important to children and parents alike. Busy Izzy's talkative friend, Tess, learns, through a series of amusing, but educational scenarios, the importance of listening, friendship, kindness and co-operation.
@Busy Izzy and Friends​ You can find Busy Izzy and Friends on:
Facebook: https://www.facebook.com/BusyIzzyandFriends​
Twitter: twitter.com/BusyIzzyFriends
Instagram: instagram.com/busyizzyandfriends/
https://www.youtube.com/c/busyizzyandfriends
#friendship #love #kindness #healthyfood #BusyIzzyandFriends #puppies #friends #me #you #meantheworldtome #BusyIzzy #IloveBusyIzzy #BusyIzzyandFriendTVshow #My26BFFsonemillionviews #BusyIzzyandFriendsonNetFlix #RoxanneKiely #StephenKiely #Awardwinningsongwriters