The Busy Izzy and Friends Show!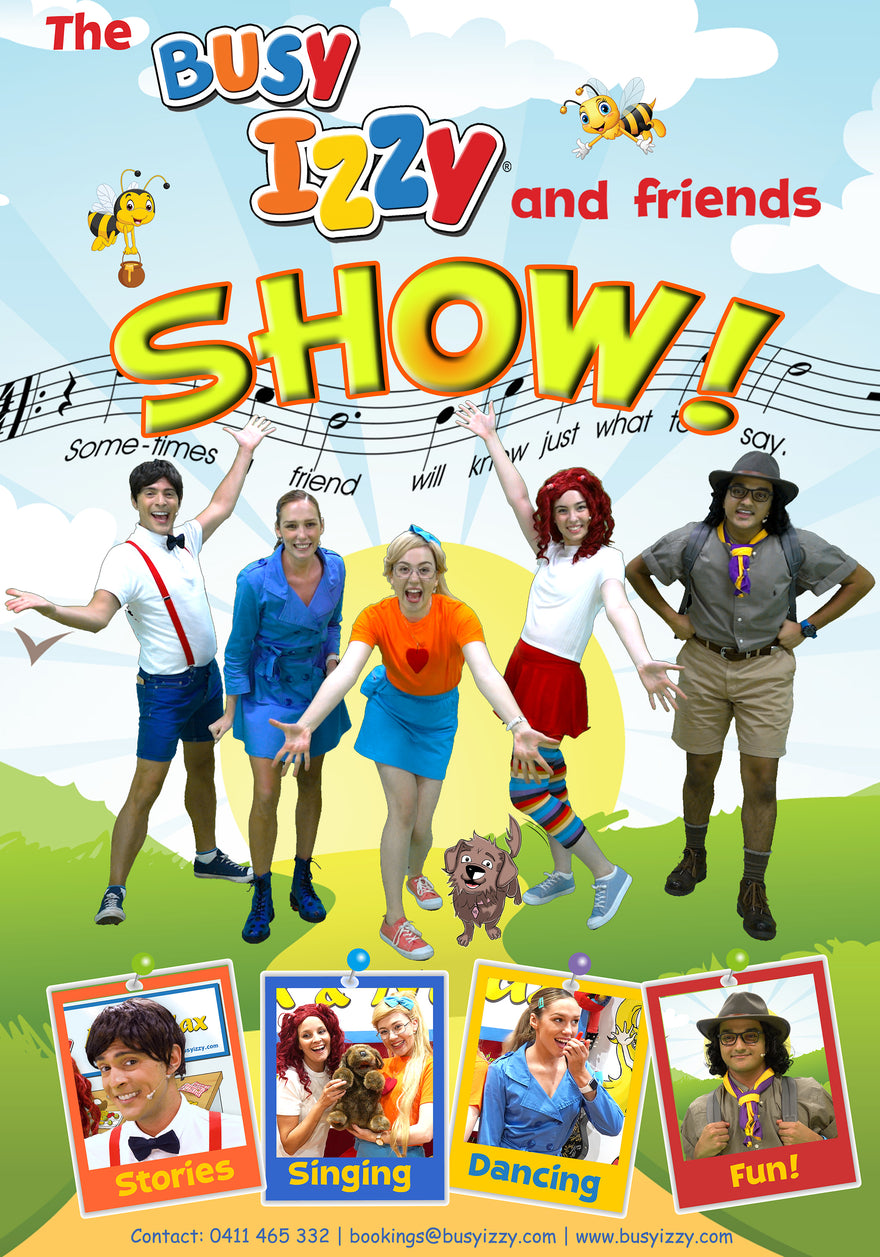 In this fun-filled 45 minute show, Busy Izzy will take you on a journey of discovery, with her BFFs and her faithful puppy, Newly Truly.
The Busy Izzy and Friends Show is an energetic musical experience, exploring issues of inclusivity, health and safety, well-being, friendship, and healthy food. Featuring up-beat award-winning songs.
Interactive dancing and singing for 3–8-year-olds and grown-ups too!
Meet Izzy and her friends, Bossy Bobby, Talkative Tess, Sensible Steven and Secret agent Skye.
"Thank you for the wonderful show.  We loved it! It was highly engaging and interactive with many meaningful messages."
Nazan Polat – Principal Amity College.
Based on the picture book series, featuring 12-year-old Izzy, her best friends and her adopted puppy Newly Truly. 
ABOUT THE CREATORS:
Roxanne Kiely: Author - Songwriter - Performer - Producer
Roxanne has made a significant contribution to the Australian music industry. Director of ScoopFX Music and president of the song writing organisation, Songsalive! Australia: as well as 'Singing Teacher to the Stars of Today', with a stellar list of students including Delta Goodrem, Bec Hewitt, Marlisa, Ella Hooper, Sarah Blasko and Hayley Warner, to name just a few.
Born and raised in a musical family and writing songs, stories and poetry from the age of seven, Roxanne is passionate about all her activities with a special place in her heart for children, which is why she created the Busy Izzy and Friends series.
Stephen Kiely: Multi-instrumentalist - Songwriter - Performer - Producer
Stephen is a multi-instrumentalist, songwriter, producer and performer who writes and produces film soundtracks, advertising jingles and songs covering genres as diverse as rock and country, through to swing and jazz. Beginning his professional music career at age eighteen, Stephen has worked on stage with many of Australia's top-ranked performers.
Working in the ever-expanding studios at ScoopFX Music, Stephen has written, performed and produced songs for many of Australia's rising stars, while creating the complete recordings of the Busy Izzy and Friends project, co-written and produced with Roxanne Kiely.
   Show reels:
https://www.youtube.com/c/BusyizzyandFriends 
https://busyizzy.com/pages/the-busy-izzy-show-live
    Contact: 0411 465 332 | bookings@busyizzy.com | www.busyizzy.com