Meet Busy Izzy's friend, Tess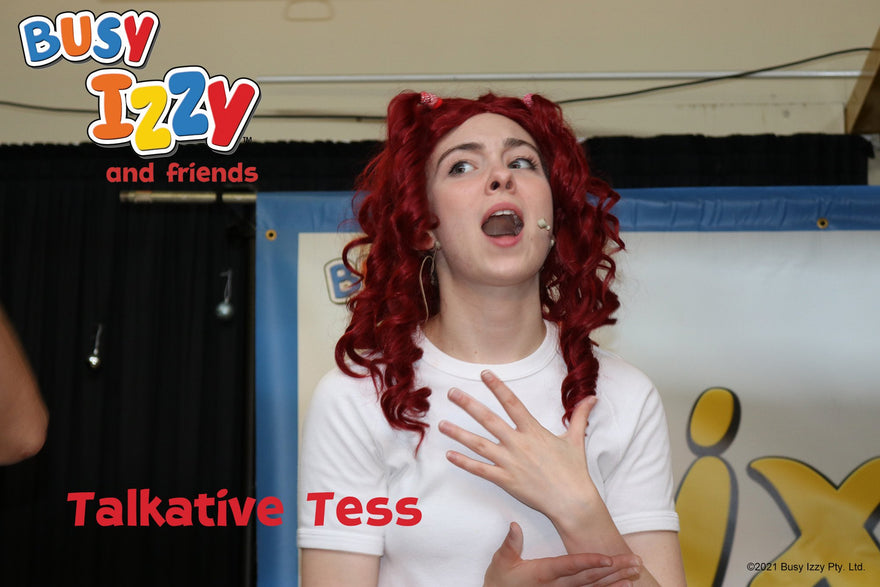 Have you met Talkative Tess?  She is one of Busy Izzy's BFFs.  The letters stand for, best friends forever. Do you have a BFF?
Tess maybe a little talkative, but most importantly, she is a kind, thoughtful and wonderful friend. 
We have a song about Tess too, and here are lyrics to the song just for you.
Do you know that, Bec Hewitt, is the voice of Tess on this song. We are fortunate to know a talented actor like Bec Hewitt, who is a wonderful, kind friend and very generous.  Exactly as we all should be.
Busy Izzy and Talkative Tess is book three in the Busy Izzy and Friends series.
Click on the link and you can listen to the song, read the words and sing along. There is a video clip coming very soon!
youtube.com/watch?v=EH-s1tMrHtc
"Talkative Tess"
Chorus
Talkative Tess, Talkative tess,
Talks so much she never gives her mouth a rest.
Nevertheless, she's the best.
That's our Talkative Tess
"I'd love my own show on TV,
with a big, big audience watching me.
They'd see me on TV every day,
if they wanted to meet me, I'd say okay."
CHORUS
"Anyway, Bobby, Warren, Evan, Max and Mo Li,
Newly Truly, Skye, Steven, Izzy and me.
We're all good friends, we're friends to the end.
Sometimes a friend is the best you can be."
CHORUS 
"Anyway, sometimes Max works for Izzy.
Sometimes my hair gets frizzy.
When I'm at Nix & Nax and there's no sign of Max,
I ask is he busy, Busy Izzy? Anyway."
CHORUS
"I'd talk about games, the best ones to play.
I'd read all the rules, they'd learn them that way.
Tell them a story and sing them a song.
I know they'd enjoy it, they'd all sing along.
I'd show them new words and sound them out too.
Tell them a riddle and give them a clue.
I'd have lots to say, it would be fun,
to share my news with everyone.
Anyway…maybe they'd want my photograph,
and I'd happily give them an autograph."
Words and Music by Roxanne Kiely and Stephen Kiely 
©2017-2021 All Rights Reserved
The books come alive from page to stage!  An all new stage show is now here for pre-schools and primary schools. Listen to Nazile Bright - Head Teacher talk about how the children at her school LOVE the books, songs, healthy recipes, stories and LOVE Busy Izzy and her friends. The live stage show is written by the creators; Roxanne Kiely and Stephen Kiely.
check out the promo video here.
Busy Izzy and Friends are much more than wonderfully entertaining children's picture books filled with exciting adventures.  These books for children have ethical and moral stories too. There are songs, interactive videos, fun songs and videos about being a good friend, healthy food, vegetables and fruit songs about fruit salad.  Friendship songs, fun songs, songs about being sensible too, and one of Izzy's friends is a secret-agent, her name is Skye and we have a song for her too. 
Modern Mo Li, is musical who loves to play the blues and Izzy's friends, Mathematic Max, Sensible Steven, Even Evan, Worried Warren, Talkative Tess and Bobby, who can be a little bit bossy, are wonderful and generous kids who love to spend time with their friends...and of course there is Izzy's, adopted little stray from the SPCA, Newly Truly "Who's the lucky rescue pup at Nix & Nax, who's everybody's favourite little friend."  These children's Picture Books, song and videos have something and everything for everyone.
#BusyIzzyandFriends #BecHewitt #TalkativeTess #RoxanneKiely #StephenKiely
#picturebooks #rhymingbooks #childrensmusic #kidssongs #kidsmusic #musicforkids #BusyIzzyandTalkativeTess #BookbyRoxanneKiely #songsbyRoxanneKielyandStephenKiely #greatchildrensmusic #awardwinningsongs #awardwinnersRoxanneKielyandStephenKiely