Introducing Secret-agent Skye, a Real Private-eye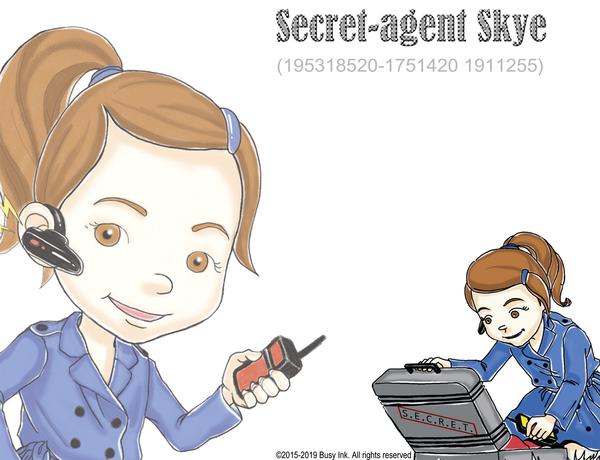 "To say you're a secret agent isn't enough.
Our gadgeteer, is trusting and tough.
Skye, worked hard to learn her agent rules,
harder to earn her agent tools.
Skye was brilliant and resilient,
Her merits speak for themselves.
With awards on the walls and more on the shelves.
Skye was top of her class all the way
A proud secret agent every day.
Private-eye's first assignments are assessed
Skye was prepared and always at her best
Tricks of her trade hidden up her sleeve
With communication, transmit, receive."
Roxanne Kiely - Author | Busy Izzy and Friends
[10-4 - is 'message received' in Morse code]
[10-3 is 'stop transmitting']
Here's a fun fact about Morse Code - At the time of its invention, it was the fastest long-distance form of communication.
Morse Code allows ships at sea to communicate too. They communicate by using large lights.
Morse Code uses two different signal durations called dots and dashes and is named after Samuel Morse an inventor of the telegraph.
Busy Izzy and Secret-agent Skye, is the story about Izzy's friend, Secret-agent Skye, book four in the Busy Izzy and Friends series due to be published in 2022. It's an environmental story about how Izzy, Skye and their friends save the honeybees at Nix & Nax.  Also a brand new friend will be introduced.
Did you know that there is an award-winning song all about Secret-agent Skye? You can watch the video by clicking here: to see 
"Who, What, When, Where, How and Why"
We now have a lyric video so you can sing along.  
CLICK here: Lyric Video to hear the song.
Secret-agent Skye: Who, what, when, where, how and why. 
Let's ask our volunteer gadgeteer.
She's a real private eye.
She learned her first secret agent rule
At the "Busy Izzy Secret Agent Training School" (BISATS)
Why is she called "Secret-agent"?
What's in her "S.E.C.R.E.T." briefcase?
A briefcase full of secrets, gadgets and devices.
When Skye was little she didn't play with dolls,
teddy bears and building blocks.
Skye made her own gadgets, disguises and safety locks.
She will help Busy Izzy when needed to track and find,
search and discover… identify!
All three books and songs are great gift ideas for Christmas and birthdays.
Educational too.  Create and Play is the theme. #healthyrecipesforkids #booksforkids #childrensbooks #kidssongs
Rhythm and Rhyme a feature. Book four in the series is out in 2022.
Busy Izzy and Friends are much more than wonderfully entertaining children's picture books filled with exciting adventures.  These books for children have ethical and moral stories too. There are songs, interactive videos, fun songs and videos about being a good friend, healthy food, vegetables and fruit songs about fruit salad.  Friendship songs, fun songs, songs about being sensible too, and one of Izzy's friends is a secret-agent, her name is Skye and we have a song for her too. Oh, and an all new stage show for kids...
Modern Mo Li, is musical who loves to play the blues and Izzy's friends, Mathematic Max, Sensible Steven, Even Evan, Worried Warren, Talkative Tess and Bobby, who can be a little bit bossy, are wonderful and generous kids who love to spend time with their friends...and of course there is Izzy's, adopted little stray from the SPCA, Newly Truly "Who's the lucky rescue pup at Nix & Nax, who's everybody's favourite little friend."  These children's Picture Books, songs and videos have something and everything for everyone.
#morsecode #secretagentskye #kidsbooks #booksforchildren #busyizzyandfriendsbooksforchildren #songs #songsforkids #Awardwinningsongs #busyizzyandfriendsonyoutube #busyizzyandfriendsonyoutubeforkids #youtubeforkidsbusyizzy #rhymingpicturebooksforkids #childrensbooks #kidsbooks #funkidsbooks #christmasgiftideas #birthdaygiftideasbusyizzyandfriendsbooks #busyizzyandfriends #roxannekiely #stephenkiely #writingbooksforchildren #writingkidsbooks #reading #readingtochildren #readingisgreat #learningtoread #kidspicturebooks #bechewitt #gardeningaustralia #goodorganicgardening
#healthyrecipesforkids #christmasgiftideas #birthdaygiftideas #samuelmorse #k9