Busy Izzy's Nix & Nax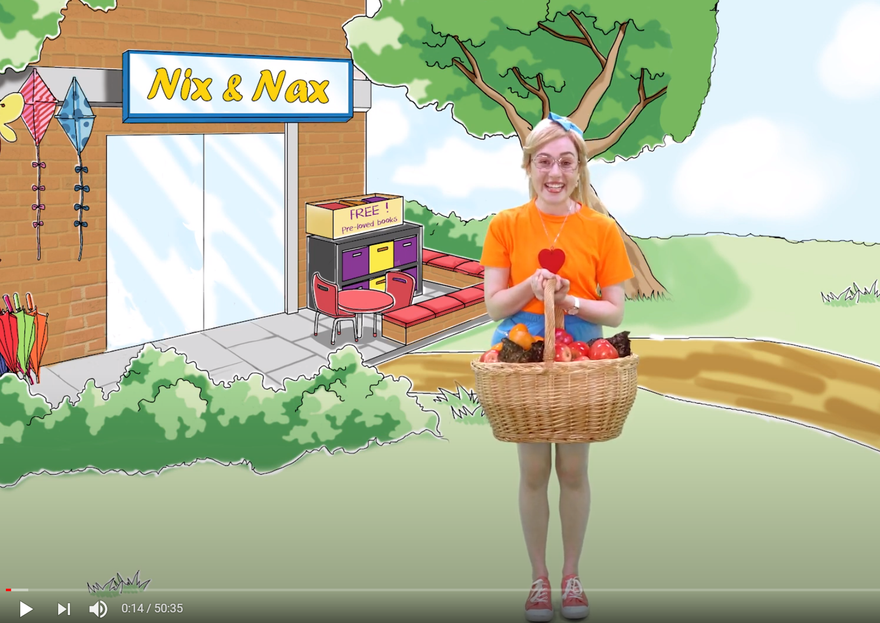 Nix & Nax is the centre of Izzy's world.  It's her little store underneath Izzy's home she shares with her parents. It's a special little place they sectioned off especially for their daughter.
Inside her store, is a book-nook with a big beautiful green comfortable chair where Izzy and her friends can sit and chat, have fun, make plans and share stories. Izzy's friends often come here if they find themselves with a problem too. Izzy is always there to help. She is kind and generous and wants her friends to be happy and feel confident.
Inside, there is storeroom, full of hidden surprises, which you can find out about in her books...
"Busy Izzy and Friends"
"Busy Izzy and Newly Truly - The Big Surprise!".
"Busy Izzy and Talkative Tess"
At the back of her store, Izzy has a veggie patch where she plants healthy herbs, vegetables and fruit trees. Also, Izzy's much loved honey-bees are here too, making delicious and natural home-made honey that Izzy can add to her recipes. 
Busy Izzy enjoys making healthy 'snaxalicious' snacks for her friends when they visit. They all enjoy sitting around the BIG comfortable chair, talking about their upcoming adventures.  Lots of laughter in the air with the many great ideas and stories they share.
Inside the store there are useful and educational items, including hula hoops, books, watering cans, pinwheels, balloons, guitars, paint pots, colouring-in books and games too.  Oh and not to forget Izzy's favourite game, online chess.  
The back her her store also leads on to the gardens of her neighbours, where Izzy's friends live, making it a fun and safe place for all the children to play.
Before setting off on any adventure, Izzy will always shout back to her Mum to make sure it's okay, so that Mum can watch the store for her while she's away.
If you want to meet Izzy's friends?  Tess, Warren, Max, Steven, Skye, who's a real private eye, Mo Li, Bobby, Evan and Izzy's adopted rescue puppy, Newly Truly, pop on to her website to read all about Izzy and her friends. 
Busy Izzy, loves to be innovative and influential and always knew exactly what to do.
By Roxanne Kiely
Busy Izzy and Friends are much more than wonderfully entertaining children's picture books filled with exciting adventures.  These books for children have ethical and moral stories too. There are songs, interactive videos, fun songs and videos about being a good friend, healthy food, vegetables and fruit songs about fruit salad.  Friendship songs, fun songs, songs about being sensible too, and one of Izzy's friends is a secret-agent, her name is Skye and we have a song for her too. Oh, and an all new stage show for kids...
Modern Mo Li, is musical who loves to play the blues and Izzy's friends, Mathematic Max, Sensible Steven, Even Evan, Worried Warren, Talkative Tess and Bobby, who can be a little bit bossy, are wonderful and generous kids who love to spend time with their friends...and of course there is Izzy's, adopted little stray from the SPCA, Newly Truly "Who's the lucky rescue pup at Nix & Nax, who's everybody's favourite little friend."  These children's Picture Books, song and videos have something and everything for everyone.
#kidsbooks #booksforchildren #busyizzyandfriendsbooksforchildren #songs #songsforkids #Awardwinningsongs #busyizzyandfriendsonyoutube #busyizzyandfriendsonyoutubeforkids #youtubeforkidsbusyizzy #rhymingpicturebooksforkids #childrensbooks #kidsbooks #funkidsbooks #busyizzyandfriends #roxannekiely #stephenkiely #writingbooksforchildren #writingkidsbooks #reading #readingtochildren #readingisgreat #learningtoread #kidspicturebooks