Busy Izzy and Friends Show goes GREEN!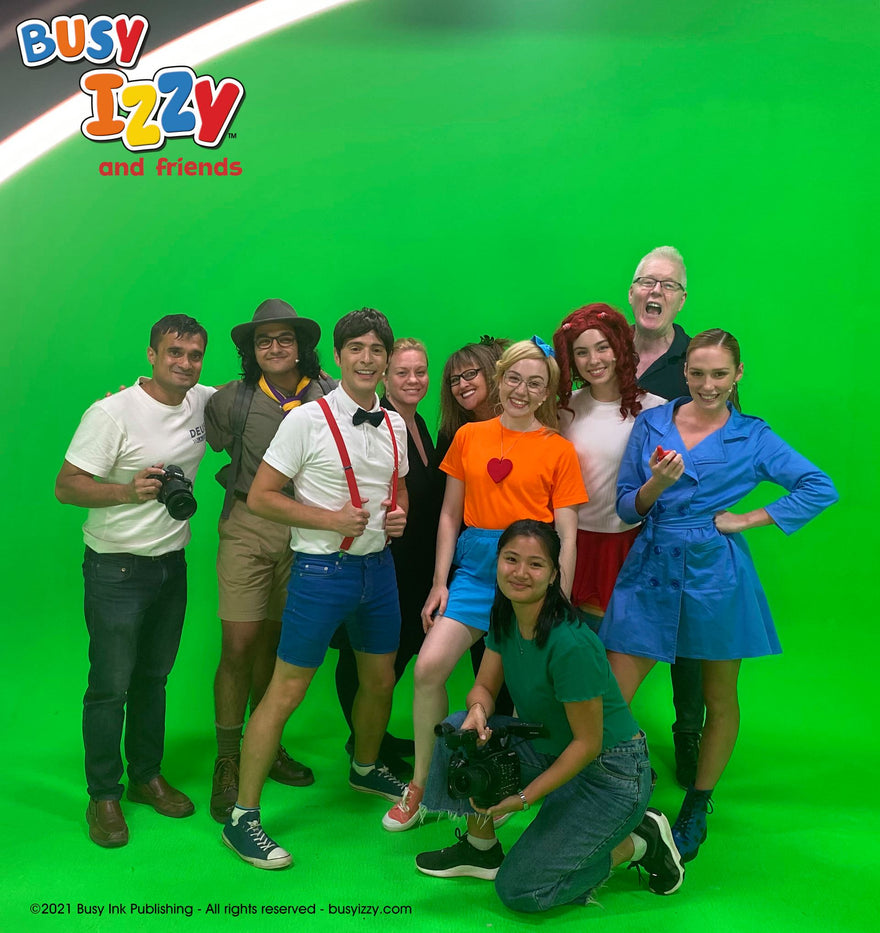 The Busy Izzy and Friends Show goes GREEN!
Our fabulous cast and crew were involved in a 12-hour marathon at Sydney Props Studios on Sunday, as we filmed the complete Busy Izzy and Friends show on the greenscreen stage.
It was an incredible day, full of fun and dedication, as the performers, video & sound crew as well as our amazing support team, created a 45-minute show, including eighteen songs.
Director, Natalie Rull and 2nd Camera unit, Saad Khan, meticulously recorded each song and the interspersed dialog of the plot.
Author of the Busy Izzy and Friends book series and co-writer of the songs and show, Roxanne Kiely was executive director, along with co-writer Stephen Kiely who handled audio production as well.
Our performers, Jordana Beatty, Santino Emmi, Chelsea McEntee, Adi Rao, Olivia McNamara worked tirelessly over the twelve hours. So energetic and so entertaining!
Big thanks to Bronwyn McEntee and Romeo who was our Newly Truly for the shoot.
Karen Craigie, from Prosper Project Australia, stayed on hand throughout the day, keeping things running smoothly and along with Sarah McCoy kept us fed and fuelled for the day.
Thanks also to Maresh Rao, who saved the day, when we realised that our watering can was green, and you know what that means. A quick paint job and all was well.
Why not head there now and subscribe so you'll know as soon as the new videos have been uploaded.
Busy Izzy and Friends are much more than wonderfully entertaining children's picture books filled with exciting adventures.  These books for children have ethical and moral stories too. There are songs, interactive videos, fun songs and videos about being a good friend, healthy food, vegetables and fruit songs about fruit salad.  Friendship songs, fun songs, songs about being sensible too, and one of Izzy's friends is a secret-agent, her name is Skye and we have a song for her too. Oh, and an all new stage show for kids...
Modern Mo Li, is musical who loves to play the blues and Izzy's friends, Mathematic Max, Sensible Steven, Even Evan, Worried Warren, Talkative Tess and Bobby, who can be a little bit bossy, are wonderful and generous kids who love to spend time with their friends...and of course there is Izzy's, adopted little stray from the SPCA, Newly Truly "Who's the lucky rescue pup at Nix & Nax, who's everybody's favourite little friend."  These children's Picture Books, song and videos have something and everything for everyone.
#kidsbooks #booksforchildren #busyizzyandfriendsbooksforchildren #songs #songsforkids #Awardwinningsongs #busyizzyandfriendsonyoutube #busyizzyandfriendsonyoutubeforkids #youtubeforkidsbusyizzy #rhymingpicturebooksforkids #childrensbooks #kidsbooks #funkidsbooks #busyizzyandfriends #roxannekiely #stephenkiely #writingbooksforchildren #writingkidsbooks #reading #readingtochildren #readingisgreat #learningtoread #kidspicturebooks