Busy Izzy and Friends, endorsed by the World Literacy Foundation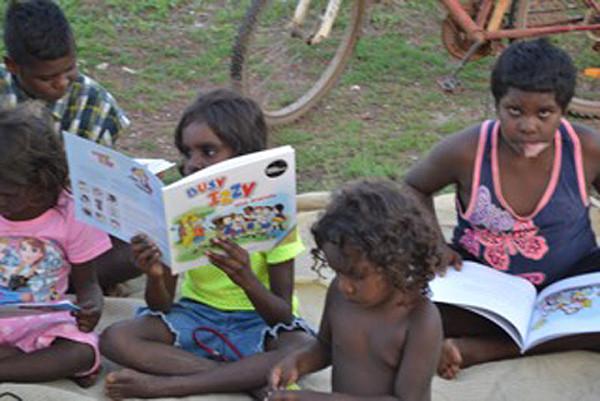 From Andrew Kay - Founder of the World Literacy Foundation, at the launch of book one - Busy Izzy and Friends.
"On behalf of the World Literacy Foundation, I'd like to acknowledge Roxanne and Stephen for the wonderful first book that they've developed. It's really a privilege to be involved with it. I think it's fantastic that they've decide to link the initiative with the World Literacy Foundation."
Andy continues, "We're using the books to distribute to a variety of low-income families and indigenous communities around Australia. I guess many of you kids have lots of books at home, but in some homes around Australia, kids don't have books, and books are so important for development during those early years.
So the Busy Izzy and Friends books that we have, we're distributing through single mum groups and play groups in disadvantaged communities right across Australia.
On behalf of the World Literacy Foundation, I'm happy to acknowledge Stephen and Roxanne for this wonderful book with music that they've produced. It's a unique product, as it brings together words in rhyme and rhythm.
It is a fantastic product and I fully endorse it, on behalf of the organisation. It really is just a privilege to have this wonderful friendship and association in this, and I really look forward to the next nine books, so thank you, Roxanne and Stephen."
The Busy Izzy project has been cited in the World Literacy Foundation's Annual Report since 2015 in reference to the partnership between the WLF and Roxanne and Stephen:
Busy Izzy and Friends are much more than wonderfully entertaining children's picture books filled with exciting adventures.  These books for children have ethical and moral stories too. There are songs, interactive videos, fun songs and videos about being a good friend, healthy food, vegetables and fruit songs about fruit salad.  Friendship songs, fun songs, songs about being sensible too, and one of Izzy's friends is a secret-agent, her name is Skye and we have a song for her too. 
Modern Mo Li, is musical who loves to play the blues and Izzy's friends, Mathematic Max, Sensible Steven, Even Evan, Worried Warren, Talkative Tess and Bobby, who can be a little bit bossy, are wonderful and generous kids who love to spend time with their friends...and of course there is Izzy's, adopted little stray from the SPCA, Newly Truly "Who's the lucky rescue pup at Nix & Nax, who's everybody's favourite little friend."  These children's Picture Books, song and videos have something and everything for everyone.
Roxanne Kiely
 #literacy #books #reading #worldliteracyfoundation #busyizzyandfriends #kidsbooks #literacyandlearning #picturebooks #roxannekiely #stephenkiely