Busy Izzy and Friends Creator and Author - Roxanne Kiely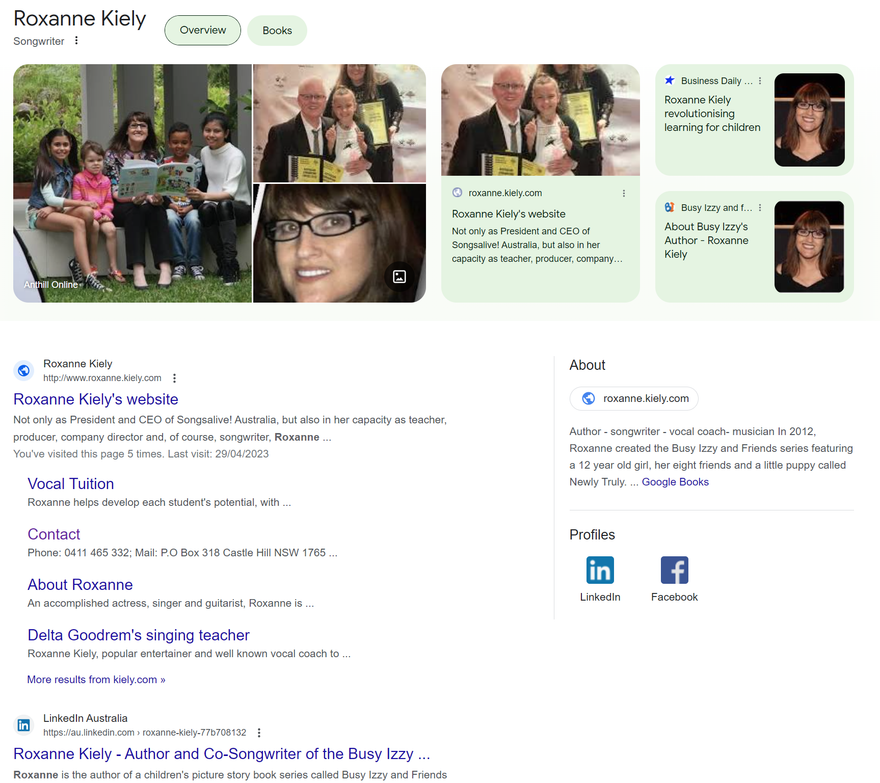 Creator and author of the Busy Izzy and Friends - Children's multi-media series / Singer/songwriter, musician, performer, vocal, guitar and songwriting coach at ScoopFX Music and President of the not-profit songwriting organisation called Songsalive! Australia
An untiring supporter of fellow songwriters and performers, Roxanne co-founded Songsalive! not-for-profit songwriting organisation in 1997. The original Sydney chapter has expanded both nationally and internationally to the U.S. 
Co-founding the songwriting organisation with Gilli Aliotti, proved to be a significant event in Roxanne's personal life as well, providing the vehicle whereby she met her husband, and creative partner Stephen Kiely, who joined the organisation soon after its formation.
Together, Roxanne and Stephen have written, recorded and produced award-winning songs for independent singer/songwriter artists as well as for their Busy Izzy and Friends project.
They have created, designed and implemented the exciting healthy roadshows featuring characters from the stories, with a strong focus on healthy living, resilience, well-being, personal safety, problem solving and featuring healthy friendships, fun and healthy food.
More about their new album and videos:
About the project.
Busy Izzy and Friends is a vibrant, educational, and entertaining multimedia series for children. The series is designed to encourage young children to learn through music, song, and dance while promoting healthy lifestyle habits and positive social skills.

The picture books, songs and stage shows follows the adventures Izzy, her friends, and their animal companions who are Izzy's adopted pup, Newly Truly as well as the Three Little Pigs who have just moved in to the busy town of Green Grass Grove. Together, they learn valuable life lessons and engage in fun and educational activities.

One of the key strengths of Busy Izzy and Friends is its ability to engage children in learning while having fun. The initiative incorporates music, dance, and catchy songs that promote healthy habits, such as eating nutritious food, getting enough sleep, and staying active and most importantly kindness and wellbeing. The characters are relatable and offer valuable role models for young viewers to emulate.

In addition to the entertaining story line and engaging characters, the Busy Izzy and Friends series also has a strong educational component, incorporating themes that align with the Australian National Curriculum for Early Childhood Education and Development. These themes include social and emotional learning, literacy, numeracy, and physical education.
This month, August  2023 through Prosper Project Australia, five new Busy Izzy and Friends videos will be launched, for the Dart Learning Platform of the Education department.

Overall, Busy Izzy and Friends is a children's multimedia series that offers a fun and engaging way for young children to learn valuable life skills. Through its entertaining story-lines, catchy music, and relatable characters, the series promotes healthy habits, positive social skills, and a love of learning. With its innovative use of multimedia, Busy Izzy and Friends is sure to be a hit with young children and their parents alike.
Future Vision
Anyone who has met or worked with Roxanne in her capacity as a venue, workshop, showcase or event co-ordinator, quickly realises that they are dealing with a passionate supporter of the local music scene, and songwriters in particular.
Her constant contact with all aspects of the industry, including print media, television, artist development companies, copyright associations, pubs, clubs and other venues, help keep her abreast of the rhythm which underlies constant change within the music scene.
Not only as President and CEO of Songsalive! Australia, but also in her capacity as teacher, producer, company director and, of course, songwriter and author, Roxanne remains focused on, and extremely excited about the potential for Songsalive! Australia to create and foster great developments for Australian songwriters.
Roxanne has been instrumental in bringing together elements of the industry which simply work well, such as promoting the unusually gifted lyric and composition lecturer, Pat Pattison, Berklee College, who regularly conducts seminars in Australia, and members of the local songwriting communities who have profited from the methods he teaches.
Singing Teacher To The "Stars of Today"
Roxanne has many students already successful and high profile stars in the Australian entertainment industry, including Aussie superstar, Delta Goodrem, Hayley Warner, Ivy Adara, Nick de la Hoyde and the dynamic young performer, Marlisa Punzalan, winner X-Factor. "Roxanne's intense and creative lessons will allow you to find your voice and develop its potential."
The Music School is situated in Sydney's North West and comprises Roxanne and Stephen.